253rd Hahnemann Day Celebration on 10th April 2008 at Parbhani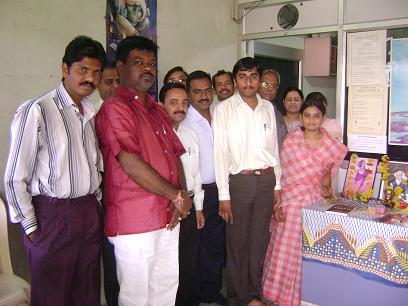 Homoeopathic Doctors of Parbhani had organized Celebration ceremony of 253rd Birth Anniversary of Dr. Samuel Hahnemann (Founder of Homoeopathy) at Shaktibrahma Homoeo Care Luxminarayan Complex, Station Bus Stand Road, Parbhani.
On This occasion Senior Homeopath of Parbhani Dr. Ganesh Deshmukh inaugurated the function by lightening the lamp, on this occasion IHMA (Indian Homoeopathic Medical Association) National Secretary Dr. Pawan S. Chandak expressed his thought as for awareness purpose such programs necessary, Dr. Asha Chandak expressed that through this program all homeopath will come on one platform to work for the suffering humanity through this great science Homoeopathy. On this occasion Principle of P.D. Jain Homoeopathic Medical College, Parbhani Dr. Sandeep Narwadkar was present. Other Homeopath Dr. Srigopal Darak, Dr. Amit Borgaonkar, Dr. Vijay Dabhade, Dr. Shivaji Aundhekar, Dr. Uzma Khatib, Dr. Salve, Dr. Bankar, Dr. Dhanashri Rohinkar were present.
Report by
Dr. Pawan S. Chandak