Book Review
New, old & forgotten remedies by Dr. E. P. Anshutz
Book Reviewed by: Dr. Pawan S. Chandak
Author: Dr. Edward Pollock Anshutz
Publisher in India by: B Jain Publishers Pvt. Ltd New Delhi & Indian Books & Periodicals Publishers, New Delhi 110 005
Price: 120/- (B. Jain Publishers), 95/- (I.B.P.P. Publishers)
Pages: 552 pages
Book Code No: ISBN 8170212510
About The Author: Dr. Edward Pollock Anshutz is the author of "Elements of Homoeopathic Theory Materia Medica Practice and Pharmacy", "Guide to the Twelve Tissue Remedies" etc.
Background & Book Detail: Background behind this book is that There was need for a Literature or book for something new about new, old remedies. Anshutz was thinking that 'Only remedies such as nature give us will be included in this book". He arranged material from various journal of all school where a paper could be found that seemed to contain something not to be found in medical book literature i.e. he has honestly written.
First edition of this book was published on 9th January 1990 at Philadelphia.
Second edition of this book was published in October 10th 1917 at Philadelphia.
New homoeopathic drugs included in this edition were proved at different homoeopathic medical colleges under modern condition. Author has collected record of proving & included & arranged it is simple and easily understandable manner.
He has also included new, old drugs which are brought out through clinical observation such as formic acid, Gun Powder, Calcarea Calcinata, Icthyol, Indol, Glycerin and others.
He has not attached an repertory but a very through therapeutic and clinical index has been made that will guide the physician who will looking for a remedy in this new field. It covers a great range from 'flat wart to leprosy'. Due to which many worried physician will be helped by guiding him to the sough for the remedy.
It is collection of A collection of essays gleaned from homeopathic literature, encompassing 117 remedies
Arrangement of each drug in the form of name, natural orders, common name, preparation, proved by, how it is prepared, proving records from Various Journal and some Clinical cases.
He has mentioned signs in some of papers in this book as from instance > means "diminishing" while < stands for "increasing".
In this book when the name of remedy is followed by a figure for example Pothos I , it means the first centesimal potency or dilution.
He has mentioned in Preface that "Value of this book may have is a permanent value, for the action of drugs on the human system like the law of the Medes and Persians 'Changeth not'".
Book Reviwed by:
Dr. Pawan S. Chandak
'Shradha' Vishnu nagar,
Basmat Road, Parbhani
Maharashtra, India
Email: pavanchandak498@gmail.com
Website: http://www.modernhomoeopathy.com

Veratrum An Egoistic Lady
Author - Dr. Ronak J. Shah
Book Review by Dr. Shajikutty (Trivendrum, Kerala)

A book which is indispensable to those who are interested in Materia Medica , drug picture presentation and it is most beneficial for a general homoeopath also. Very good &novel presentation of Veratrum Album picture. Rather than a routine descriptive presentation here we get a point to point description mixed with the clinical comments of the author.
The book begins with the a brief pharmacological details which is followed by the mental features & a description of doctrine of signature similarity.
The evolution of the remedy is the most attractive part loaded with information. This is followed by Diagrammatic representation of the mind spread in two pages.
The comparison of Veratrum. child with that of Tuberculinum & Tarantula gives a vivid picture of the three children forms in our mat. medica.
A compact representation of particulars followed by relationship in completes the drug picture. The varity of cases nine in number depicts the vast understanding of the author which is another valuable portion for the practitioner. This book is a must for every student as well as dedicated practitioners.
Publishers -
Indian Books & Periodicals Publishers, Block -5/62,
Dev Nagar, Pyare Lal Road, Karol Bagh,
New Delhi-110005, India.
Pages - 62
Price- Rs.30/-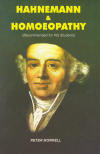 Hahnemann and Homoeopathy

By

Peter MORRELL
Book Reviewed by Dr. R. Rejikumar
Post Graduate Student
Dept. of Homoeopathic Philosophy
Govt. Homoeopathic Medical College
Thiruvananthapuram, India
Book code : BP 5679
Published by: B Jain Pvt. Ltd
ISBN : 81-8056-298-0
Printed in : India
Pages : 411 pages (paperback)
Edition: First
Dimensions : 8.40 x 5.50 x 0.75 (in inches
Introduction:
An ardent follower of Hahnemann with extreme love for homoeopathic truth can never fail to read the biography of our master written by at least one of the authors like Bradford, Richard Haehl, Trevor M. Cook , Rosa Waugh Hobhouse etal.The book being reviewed here deserves special attention as it unveils some mysterious aspects of Hahnemann's life together with interesting details and explanations.
About the Author – Peter Morrell
Birth : 1950 at Newark
Childhood life : Nottinghamshire
Mother : Olive Gwendoline Grand-Scrutton (1917-­84
Father : Reginald (1912-65
Main other interests : art, poetry, astrology, Buddhism and homoeopathy.
Involvement with Homoeopathy
1978 when he was taught the basics by a student of George MacLeod.
Career
Reader in Zoology at Leeds University
College lecturer in sciences since 1975.
Practiced on a part-time basis throughout the 1980s.
Engaged with researching aspects of the history of Homoeopathy since 1989.
Elected by the Dean of Social Sciences and the Academic Board as Honorary Research Associate in the History of Medicine at Staffordshire University for a period of 3 years.
Presented research papers on this theme in Stuttgart, Linkoping, Sweden, London and Keele.
Preface
"A deeper appreciation of the phenomenal energy and staggering achievements of this multi-talented medical rebel & pioneer, and especially perhaps, some insights into his personality, mode of thinking and how Homoeopathy came to be brought into being."

"Hahnemann's vision of a radically curative medicine will hopefully become established in the next quarter millennium and then natural, healing therapies will at last begin to dominate medicine and take up their long-deserved position of greater prestige."

The author says that he is giving accounts of a person he has come to know intimately like a close friend.
Some noteworthy Chapters
Hahnemann's discovery of Homoeopathy

Coming out of the darkness like a meteor

Hahnemann: The Adventurous career of a medical rebel (Written by Martin Gumpert, reviewed by Peter Morrell)

Hahnemann & Paracelsus; a heavenly dialogue

Hahnemann & Homoeopathy from Romanticism to Post-Modernism

Hahnemann – the Real Pioneer of Psychiatry

Fate versus wish (written by Dr. P. Krishnan)
Novel ideas / findings in the book:
Hahnemann was reluctant to associate his new system of medicine with the name of Theophrastus or Paracelsus for fear of being misunderstood or being accused of plagiarism. (p. 15)

The truth is of course, that Hahnemann was a second Paracelsus, but he felt he had to hide this fact. (p.72)

It was probably Immanuel Kant's that inspired Hahnemann to formulate his homoeopathic ideas into an aphoristic style. (p.18)

Hahnemann's system very accurately mirrors the history of his day, its underlying ambivalence and uncertainty, and the 'cultural schizophrenia' of his fellow countrymen in the latter half of the 18th century. (p. 23)

Hahnemann, like Paracelsus before him, had a strong preference for mineral drugs. Out of the 48 drugs listed in 'The Chronic Diseases', 35 are minerals. (p.34)
Hahnemann's horoscope
As an Aries with Sagittarius rising, one would expect a person to have a forceful, daring and passionate nature, easily roused to argument though generally quick to forgive and forget. (p. 80)

Sun and Moon both in Aries in 4th house indicate a person who is pioneer, even a loner, constantly trying out new things and new ways of looking at (old) things. (p. 82)

Saturn in Capricorn in the second house indicates a persistent lack of cash and a person who is poor or destitute for most of their life. It also signifies thwarted ambitions and a life frustrated by barriers that prevent one being accepted by society. (p. 82)
Prediction
It is clear that Homoeopathy ruled by Hahnemann's Jupiter in Virgo would undergo radical developments in years ahead as Pluto enters and moves through Sagittarius and especially as it passes through the critical 9-14 degrees. This will be in 1999-2005 approx. (p. 87)
Controversial / debatable remarks
Hahnemann was seeing about 15 –18 patients ( 5 – 10 initial consultations and remaining follow ups) per day during his practice in Paris.

Hahnemann and Melanie spent approximately 1 – 1.5 hours per consultation.

I think the Coffee theory ( Lesser writings pp. 391-410) is agood example both of Hahnemann's superior mental powers and of his occasional tendency to make up a grand theory from scant evidence. (p. 134)

Those Homoeopaths who can with honesty say they use mainly potencies 12, 18, 24 and 30 can truly call themselves Hahnemannian. The rest cannot.

Also, the history of homoeopathy since Hahnemann clearly shows that in different lands and continents, people have adapted his teachings and principles differently and devised various modes of practice, all with their own good track records.
Conclusion
The book reviewed being a research work of years and a collection of articles published over a span of time, there are some shortcomings with regard to the flow of ideas and statistical data wounding the belief s of classical homoeopaths. But the merit is that this critical work will open up discussions as to the life and times of Hahnemann as well as it will give an unbiased view to all lovers of medical history.

Title - Temporament Types - A study

Author - Dr. Parinaz Humranwala
Book Reviewed by: Dr. Shajikutty (Trivendrum, Kerala)
Publishers - Nina Foundation , 240/11, Shankar Sadan, Sion (E) Mumbai.400022.
Price - Rs.70/-
Pages - 48
Available at - National Journal Of Homoeopathy Book Club , Milan clinic, Santacruz (W). Mumbai
A truly valuable contribution from a teacher who keeps a passion for Homoeopathy in its true spirit. The personality traits of five temperaments namely, Sanguine, Choleric, Melancholic, Phlegmatic & Nervous are detailed in short& very nicely . After the reportorial description of important remedies we can read a crystal clear personality trait presentation in short words ,as well as pictures. Few drugs are mentioned below each temperament . There after famous characters from popular films highlighting that temperament is interesting. Important remedies of twenty two in number which have mixed proportions of temperaments are explained .
In the end we have five selected cases mentioned in which the similimum derived after reportorisation personifies the temperament of the case before.
Altogether this short monologue is a gem to sharpen your holistic approach in selection of similimum.
This book is vital for the BHMS Students also, as the details of temperaments is very scarce.
A good book worth for practitioners also.
We expect more in future from the learned personality of Dr. Parinaz of the Mumbai School Of Homoeopathy.

Book Reviewed by: Dr. Shajikutty (Trivendrum, Kerala)

Analytical Repertory of symptoms of The Mind
(Second Reprint Edition - 2000)

Author - Dr. C. Hering
Publishers - B.Jain Publishers Pvt. Ltd. India
Price - Rs. 60/- ( Book Code B2280)
Book Reviewed by : Dr. Shajikutty (Trivendrum, Kerala)

A book usually overlooked in the undergraduate level. An indispensable book for the ardent student, who wish to specialize in analysis of mind & psychosomatic diseases. Moreover a golden work ( also handy for us) by Dr. Hering .Once followed it will sharpen your homoeopathic understanding to that of the masters.
This book is based on the aetiological factors of mind leading to physical symptoms or diseases . For case analysis the totality should be constructed in three factors (1) ethological peculiarities of the case (2) leading characteristic symptom of the case (minimum of three with there concomitatants) , (3)pathology behind the illness & finally selection of the remedy with reference to Materia Medica.
After the initial description of how to work a case in the introduction ,the chapter on arrangements of chapters - 48 in number (pages 29 - 52)explains the contents of chapters in brief. Instead of alphabetical order (the author has disregards for the same ) the hahnemannian schema is followed with Hering's addition of chapters like Nerves, overexcitements, convulsions weakness, lameness , all the limbs, rest position - motion, times of the day, relation to space, tissues, stages of the life etc. etc. completes the holistic image. This portion should be thoroughly learned .As we get only the headings instead of chapters with numbers, itis difficult to follow in the beginning.
Grading of remedies is four in category 1) somewhat proved remedies,2)more proved remedies,3)used often,4)very often & 5)polycrest.Remedies are given in left margin with markings -in alphabetical order which is unique & easy to remember. Only confirmed remedies as mentioned in S.R. Phattak's version of Synoptic Key.
In the main portion headings are described as in Boenninghausen's TPB. After that there is an appendix & index of remedies at the end. After each major heading there is model cures with the source which is clinically important.
There are scores of physical symptom that originates with etiology in mind -for working out such cases, this book is essential. Model cures after each sensation is very informative to the reader. Really a book to be recognized & to be followed by every homoeopath.

Book Reviewed by: Dr. Shajikutty (Medical Officer Govt. Homoeo Dispensary, Guruvayur, Kerala)
Title: '50 Millesimal Potency in Theory and Practice'
(Its importance, Specialty, Preparation and Administration with Case Records)
Third Revised and Enlarged Edition According to Hahnemann's Organon, Sixth Edition.
Author: Dr. Harimohan Choudhuri
Published by: B Jain Publication, New Delhi
First Edition: 1983
Second Edition: 1986
Third Edition: 1990
MRP: Rs. 39.00
Pages: 106
About Author:
Dr. Harimohan Choudhuri has studied Homoeopathy in East Pakistan Homoeopathic Medical College (Now called Dr. Zakir Hussain Homoeopathic Medical College), further enriched his knowledge and experience under Supervision of Dr. Khagendra Das Choudhari and Dr. Chandra Kumar Kastogir of Chitatong, Bangladesh.
He is reputed, brilliant and successful doyen of Homoeopathy has spread in Bangladesh as well as India.
His contribution, publication, writing are: Translated 6th edition of 'Organon of Medicine' in Bengali, Chief Editor of 'Ajker Homeo Pragati', Chied Advisor of - 'Homeo Samiksha'
His Approach: He advocates realistic and materialistic outlook in Homoeopathy as against idealistic view hitherto prevalent.
About Book:
At present a good number of doctors use 50 Millesimal scale of potency. His book on this subject in Bengali and English have earned International reputation as a beacon light of Hahnemann's 50 Millesimal Potency in the world.
In Third edition one new sub-chapter has been included regarding administration of medicines in descending scales. He mention that 'dilution in lieu of ' potency which is more scientific.
This book is based on Principles '6th edition of Organon of Medicine' and secondly on more than 20 years of practicing experience with 50 Millesimal Potency. This Book is almost an English Version of Bengali Book 'Panchas Sahasratamic Paddhatir oushadher Prayog Bijnan' for wide circulation about hidden treasures of the Organon, latest edition.
In this book he has focussed on 50 Millesimal potency on the basis of concept of Organon & details about 50 Millesimal Potency mentioned by Dr. Samuel Hahnemann in Organon of Medicine.
Also details about Preparation, Mode of administration of 50 Millesimal potency medicines, Advantages & limitation of 50 Millesimal Potency, Application of 50 Millesimal Potency in different condition, various routes of administration like oral, olfactory & external rubbing etc.
He also has given instruction how to avoid medicinal aggravation of 50 Millesimal scale of potency.
He also shared his experience in treating & curing cases with the help of 50 Millesimal Potency.
Finally after going through book I can say "This edition is more informative and helpful to the profession".
Book Reviewed by : Dr. Pawan S. Chandak BHMS
Indications of Miasm by Dr. Harimohan Choudhari
Name of Book: Indication of Miasm
Author: Dr. Harimohan Choudhari
Publication: B Jain Publication Pvt. Ltd. Delhi
Price: 69/- Rs.
Book Reviewed by: Dr. Pawan S. Chandak
About Author:
He is experimenter, pioneer of 50 Millesimal Potency. He is profounder of Dialectical Materialistic Interpretation of Homoeopathy. He is Author of '50 Millesimal Potency in Theory & Practice' & Many Homoeopathic Books in Bengali. He is Chief Advisor of Homoeo Samiksha.
He is Chief Editor of 'Samabidhan' and 'Ajker Homoeo Pragati'.
He is Founder General Secretary of Bengal Homoeopathic Parishad. He is professor of Organon of Medicine at Bengal Allen Medical Institute, Calcutta.
About Book:
Dr. Choudhari's treatise on miasm is very explicitly written in all the aspects with practical suggestions which would help the readers immensely.
He described the relationship of miasms with microorganism, the correct indication of particular miasm thereby identifying one from another.
He described mixed miasms, vaccinosis, acute miasm, etc to understand and distinguish them for the purpose of treatment. He has written on the present days; dreaded diseases like Tuberculosis, AIDS, etc for appropriate understanding from homoeopathic point of view.
He has compiled lists of drugs under each miasm for the benefit of readers. The learned author has performed a really difficult task by compiling these highly valuable and complex subjects.
It is needless to say that this book will be of use to all the homoeopathic physicians and students alike. I wish everybody will study this book and keep it for reference.
Book Reviewed by: Dr. Pawan S. Chandak
BOOK REVIEW: Signatures Miasms Aids -- Spiritual Aspects of Homeopathy by Misha Norland & Claire Robinson
Reviewed by Dr. Pawan S. Chandak
Title of Book: Signatures Miasms Aids -- Spiritual Aspects of Homeopathy
Printed in UK
Price: $40.00
Pages: 229 pp pb
Book Code: ISBN 0-9544766-0-3
Author: Misha Norland & Claire Robinson
Details About Book:
New light is cast on Hahnemann's original three miasms, while Tubercular, Cancer and AIDS miasms are examined through the nosodes of those diseases.
These are set within a developmental model helping us locate patients and remedies on a miasmatic map.
Signatures, Miasms, AIDS shows how a deeper knowledge of two key concepts, miasms and the doctrine of signatures, can enrich our understanding of remedies and the diseased states we encounter in our patients.
It also helps bridge the gap between spiritual and scientific worldviews. The book examines the historical and alchemical background of healing, placing homeopathy firmly within the context of the ancient, unchanging and practical truths of the 'eternal philosophy'.
Based upon this, a model for potency selection is offered. New information is included from the extensive provings of the AIDS nosode and the frequently used remedy, Falco peregrinus.
About Author:
Misha Norland, FS Hom
Misha Norland was born June 13, 1943. He can be reached at The School of Homoeopathy, Devon, 82 East Pearl St., New Haven, CT 06513.
Tel/Fax: 203 624-8783
Email: betsy@homeopathyschool.com
His website is www.homeopathyschool.com
Misha is the Founder and Principal of The School of Homeopathy, Devon, England. He was made a Fellow of The Society of Homeopaths in the U.K. for "outstanding services to homeopathy".
Misha has been in homeopathy since the early days of its recent revival and is a founder member of the British Society of Homeopaths. Misha is internationally recognized and respected both as a teacher and as a clinician.
With nearly 30 years of homeopathic practice, 20 years of teaching, 16 years of video-taping cases, and 9 years of conducting provings, Misha shares an extraordinary depth of understanding, knowledge and experience.
An insightful and popular lecturer worldwide, Misha is also a frequent contributor to various U.K. and European journals.
Reviewed by Dr. Pawan S. Chandak
Book Review: Science of Homoeopathy by Dr. George Vithoulkas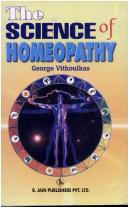 Title: The Science of Homeopathy
Author: Dr. George Vithoulkas
Published by: B Jain Publishers Pvt Ltd. New Delhi (India).
Pages: 318 pages
Published in: 2002
Reviewed by: Dr. Pawan S. Chandak
About Author:
George Vithoulkas started teaching classical homeopathy in 1967. In 1971 the first Greek Homeopathic Society was established and a year later Vithoulkas started the Greek journal, Homeopathic Medicine. Vithoulkas' books, Homeopathy: Medicine of the New Man (Arco, New York, 1979), written for lay people, and The Science of Homeopathy (Grove Press, New York, 1980), for health professionals, have been translated into twenty languages and have had a profound influence upon the acceptance and practice of homeopathy worldwide. His book, A New Model for Health and Disease, published in German and English in 1991, makes a fundamental critique of conventional allopathic medicine and sets out a new paradigm for the science of medicine. At present Mr. Vithoulkas is writing a new homeopathic Materia Medica Viva, in 16 volumes, including contemporary knowledge and his own experience from the more than 150,000 cases treated at the Center in Athens. At present six volumes have been published.
About Book:
George Vithoulkas has written this book on the basis of his twenty years of experience in the application of homeopathy, real dedication, study, close observation and constant meditation on the many challenging problems.
He has focused on many missing points and confusing issues, many unknown links from the masters of time.
He has focussed on important issues like complete definition of health, the understanding of human being in its three levels of existence, the hierachical importance of symptom, syndrome and its interrelation, the understanding of the defence mechanism, the comprehensive theory of miasm in its true perspective and many other problems were clarified.
George Vithoulkas has compiled a clear and comprehensive text outlining both the theory and practice of this important medicine Homeopathy. In section one "The law and Principle of Cure, "Vithoulkas sets forth the principles of electrodynamic energy, the 'vital force', predisposition to disease, and the selection of homeopathic remedies, In Section two, "Practical Application," he gives a detailed explanation of the methods of diagnosis, and the preparation, administration, and the evaluation of homeopathic cures. Written in clear, concise language, with ample illustrations, references, and case studies, The Science of Homeopathy is an excellent reference for homeopathic physician and an informative introduction for interested lay persons.
Book Reviewed by: Dr. Pawan S. Chandak
Book Review: Homoeopathy and Minerals by Dr. Jan Scholten
Title: Homoeopathy And Minerals
Author: Dr. Jan Scholten
Published by: Stichting Alonnissos, Servaasbolwerk 13, 3512 NK, Utrecht
Pages: 295 pages
Published in: 1993
Reviewed by: Dr. Pawan S. Chandak
About Author: Jan Scholten is Well known author of the books 'Homeopathy and Minerals' and 'Homeopathy and the Elements'. Dr. Scholten will brings to our awareness materia medica updates and cured clinical cases of physical pathology, verifying his theoretical models for the periodic table of the elements enunciated in his excellent books. He presents new information about the elements, minerals and plant families.

About Book: Scholten describes each mineral family using a process he calls group analysis.
With this book Scholten explores the themes of various remedy groups-the Natrums, the Acids, the Carbonicums, etc., and extracts the symptoms that are common to group members.
Having related some basic ideas to the chemical elements he uses these concepts to choose the remedy and, to some extent, predict the themes of unknown remedies.
After discussing the topic of disease and explaining his 'group analysis' Scholten illustrates the various groups--the cations, single elements, etc. He also describes Argentum metallicum and a search strategy used to understand remedies.

Lesser-known remedies are thoroughly described and illustrated with a case. Differentials are utilized to emphasize the characteristics of similar remedies.
Links:
Book Review: Skin Diseases by M.E. Douglass, M.D.
Title: Skin Diseases: Their Description, Etiology, Diagnosis, and Treatment According to
the Law of the Similars
Author: M. E. Douglas, M.D.
Published by: B. Jain Publishers India, 2004
Pages: 455 pages
Edition: First in 2004
Book code: ISBN 8170213169, 9788170213161
Language: English
Price: 75/-
Book Review by: Dr. Pawan S. Chandak
About Book: The author has mentioned details and recent advances made in Dermatology in a rational and practical manner. The work has been written in the first instance with the view of meeting the wants of the homoeopathic practitioner in his daily dealings with diseases of the skin, at the same time the needs of the medical student in preparing for his examinations have been kept constantly in mind.
The author has endeavored to present his subject in the most practical manner and with the fewest possible words consistent with an intelligible presentation of the same. To this end he has avoided all theoretical and controversial discussions, which are of interest to the specialist rather than to the general practitioner or student.
About Author:
Author is Lecturer in Dermatology in the Southern Homoeopathic Medical College of Baltimore, Md