Modern Homoeopathy
Dr Hahnemann Day Special issue
Latest News in Homoeopathy
HARC celebrated World AIDS Day with AIDS affected children
On 1st December 2008 Homoeopathic Academy of Research & Charities members & office Bearers celebrated World AIDS Day with AIDS affected children at Jeevanrekha Balgriha, Parbhani. President of HARC Dr Pawan S Chandak has gifted Water Filter to President of Jeevanrekha Balgriha 'Mr. Javed Faruki' to solve water born infection problem. In this whole weekend HARC provided Nutritious Foods to children's of Jeevanrekha. On this occasion Dr Nikhil Kendrekar, Dr. Shrigopal Darak, Mr. Ambadas Akulwad, Care Taker Smt. Savitra Puri were present.
Shaktibrahma Homoeo Care is now 3 beded Homoeopathic Hospital
Shaktibrahma Homoeo Care is now 3 bed well equipped Homoeopathic Hospital with 2 separate Consultation room, big waiting area, facility of admission for acute emergency cases. This Hospital inaugurated on 21 December. Big waiting area, 2 separate cabin with Consultation by Dr Pawan Chandak & Dr Mrs Asha Chandak & in acute & emergency cases IPD facility & genuine & good quality Homoeopathic Medicines. It is located at 'Shaktibrahma Homoeo Care' 7, 'Kinara' Shivaji Nagar, Near Architect Chandak House, Parbhani.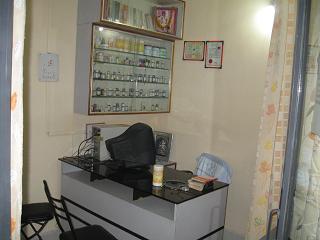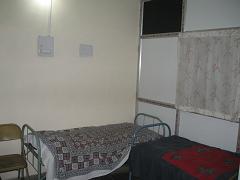 HARC celebrated Diwali festival with AIDS affected children at Parbhani
On 27th October Homoeopathic Academy of Research & Charities has organized a program at 'Jeevanrekha Balgrih' run by Nari Vikas Mandal, Parbhani for AIDS affected children. Team of HARC went there are distributed one month 'Sprout Material to Care taker of society which will be used as Nutritious breakfast daily morning. Also served Nutritious foods to children. In this Program in the presidential address by Adv M. K. Ubale said that such type of program are very necessary in this society, there is need to gather all active social worker & to work for the health benefit of these children. Art of Living Teacher Mr. Ambekar says that we are planning to conduct educational program which will help to build up mental & physical health of these children, to gain confidence in these children so they should not think they are different from society. We will plan to mix up them with our society. Mr. Prashant Yeldarkar, Dr. Nikhil Kendrekar, Mr. Ambadas Akulwad had organized 'Drawing competition' for these children. Students had actively involved in this competition and enjoyed it. HARC planned to start Education for these children on weekly basis so that they can read & write. In the evening Dr. Pawan S. Chandak, Dr. Nikhil Kendrekar & Mr. Ambadas Akulwad celebrated Diwali with these children.
Dr. Pawan S. Chandak, Dr. Mrs. Asha Chandak, Mr. Ambadas Akulwad, Mr. Kailash Sulsule, Rahul Patange, Satyanarayan Chandak, Mrs Basanti Chandak, Dr. Nikhil Kendrekar, Prashant Yeldarkar has taken efforts to success this event.
Special Training for US homeopaths in MAY and JUNE 2009
Dr. Vijay Vaishnav and Dr. Daxa Vaishnav are pleased to announce special training sessions in USA for homoeopathic doctors (and students with some training in homeopathy).

Spread over 2 weekends in the months of May and June 2008, the sessions will be held in California and Massachusetts respectively. The sessions will bring basic, practical and grass root level homeopathic teaching and prescribing to the US.

We have been invited to many countries like the USA, UK, and Austria to teach homoeopathy to students at various schools and colleges as well as at seminars.

India has now become the hub for training in homoeopathy and Mumbai (Bombay) is the center of this hub. Students from all over the world are seeking further training in homoeopathy by visiting India. We have taught students of many countries including the USA, the UK (England, Ireland), Canada, Germany, Austria, Switzerland, Romania, Egypt, United Arab Emirates, South Africa, Australia and Japan.

(Dr. Vijay Vaishnav has been actively involved in preparing the training program of international students at Smt. CMP Homeopathic Medical College, India's premier institute in the field of homeopathic education.)

For more information please send an email to office@drvaishnav.com. Only limited seats available.
HARC President visited Snehalaya at Ahmednagar
HARC president Dr Pawan S Chandak visited Snehalaya Centre on 28th December 2008. Snehalaya is rehabilitation centre for HIV AIDS peoples at Ahmednagar, Maharashtra.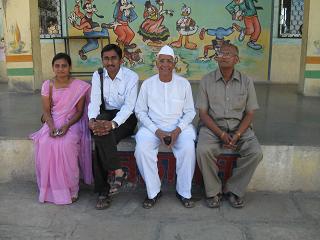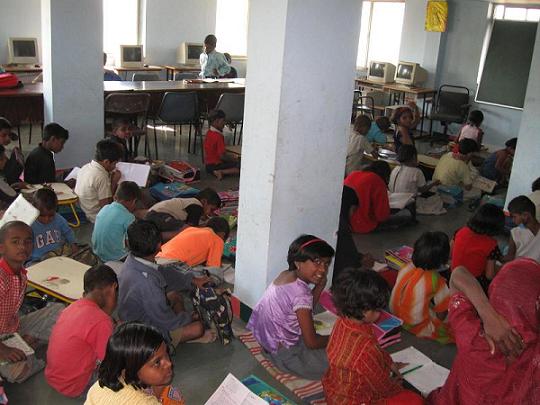 Dr Pawan S Chandak, Dr Mrs Asha P Chandak visited Snehalaya & tried to understand their work. In photo President of Snehalaya Mr Singhwi, President of HARC Dr Pawan S Chandak, DR Mrs Asha P Chandak, Mr Mantri are present.
AIDS & Homoeopathy Exhibition on occasional of Religious Festival from 1st February – 10th February 2009 at Parbhani
Every year 'Turat Peer Dargah Festival' celebrated at Parbhani where more than 15 lakh people gather & celebrate it where lots of exhibition, entertainment programs arranged. So on this occasion to bring awareness about Homoeopathy in AIDS & about our TUBAID project we arranged Exhibition stall at Parbhani in which educational posters, charts, Homoeopathy & AIDS awareness charts presented. Many people came for enquiry of it.
For the success of this camp / Exhibition Dr Pawan S Chandak, Dr Srigopal Darak, Mr Ambadas Akulwad, Dr Mahendra Gaushal, Dr Asha Chandak, Adv M K Ubale, Dr Shailesh Mantri, Dr Sachin Mantri, Dr Nikhil Kendrekar, Mr Shyam Saraf, Dr Anjali Kale has taken great efforts. Also Camp assistant Raju Mohite & Raju Bandgar has played important role in instructing people.
Advanced Guide for Professional Homeopaths
By Luc DE SCHEPPER, MD, PhD, LicAc, CHom, DIHom
This book is intended to bridge Dr Luc's two books: Achieving and Maintaining the Simillimum and the book due out in 2009--Jung: Delusions, Dreams and Homeopathy, which has been the core material of his latest seminars. The latest findings about potencies, miasms and observations of Hering are fine tuned for clinicians. Furthermore, eleven intra-uterine questions and eleven questions for the homeopath to see if the clinician has the right remedy are explained in detail with clinical examples. In addition, the core delusion is defined and ways of finding it in the clinic. Jung's introduction of extrovert and introvert types, as well as the functions of consciousness, give the homeopath a solid introduction to use these characteristics to know the constitution and temperament of the patient. This is an invaluable guide for any professional in practice.
MIASMA -2009: A REPORT

The National Academy of Homoeopathy, India which is now in the 31st year of its existence, is committed to widening its activities from its conventional role of conducting the biannual Postgraduate residential homoeopathic schools to biannual workshops in the memory of Late Dr. J.N.Kanjilal of Kolkatta.

The Central Secretariat (Nagpur) decided that the theme for Academy's ninth workshop would be Miasmas and the venue was the prestigious Dr. Babasaheb Ambedkar Sanskrutik Bhavan, Pune. It was also the moment of installation of "Pune Core Group" of the Academy under the leadership of Dr. Abhijeet Joshi.

Education is the process of shaping the human mind, be it individually or collectively. Workshops provide an infrastructure and the 9th Late Dr. J.N.Kanjilal Memorial Workshop "MIASMA -09" was one such platform. It was a platform not only to create awareness but also to share information right from the history, meaning of the word, sources, vehicles to the clinical significance and cases managed by the knowledge of Miasms.

Indeed this was a long awaited topic since right from Hahnemann's times; Miasm has been an ill-understood subject. The scientific program laid out was comprehensive covering the entire panorama of Miasms. Sessions were planned in a manner conducive to a good interaction between the faculty and the audience. The speakers represented an outstanding team of recognized homoeopathic experts in the field of miasmatology.

At the outset, the traditional samai was lit by all the Guests and rich tributes were paid to Late Dr. J.N.Kanjilal by Dr. Aadil Chimthanawala. Inaugurating the workshop, veteran homoeopath of Pune Dr. M. P Arya commented that the concept of Chronic Diseases has divided the homoeopaths into two groups – the non believers and believers. The former only apply the concepts of Similia, minimum and potentization in their practice whilst the latter adhere to all these and that of Miasms in principle & practice. Both senior homoeopaths, Dr. S. Katekari & Dr. S. Phansalkar (Director I.C.R: Pune) agreed with Dr. Arya on this point. They were very liberal in their praises for the speakers –Drs. Kasim & Aadil Chimthanawala. Dr. Katekari went on to say that it was the first time that deans of all homoeopathic institutes of Pune had conglomerated on a single dias and the credit goes to the Academy. Dr. P Sethiya (Principal D.S.H.M.C) & Dr. A.Jadhav (Principal Bharathi Vidhyapeeth H.M.C) also shared their views.

The first session was by Dr. Kasim. In his immaculate style he provided an insight of evolution of Dr. Hahnemann's practice from Domestic (1790 - 1810) to practice only the laws of Similia, dynamization & potentization (1811-1827) and finally practice on the concept of Chronic Diseases (1828- till death). Vivid details were discussed regarding the necessity of the concept, genesis, retaliation that Hahnemann met upon its introduction, etc.

The subsequent deliberation again by Dr. Kasim dealt with what are Miasms, their types, attributes, planes of expression, Psora, Syphilitic & Sycotic Miasms, concept of eliminations, microbial relationships, healings, pathology, etc. The final lecture was on Tubercular Miasm with cured cases of Paget's disease Breast and Primary Infertility & SLE.

Dr. Aadil Chimthanawala elaborated the role of Miasms in the management of Cardiac cases. He presented homoeopathically managed cases of Ischemic Heart Disease (psoro-syphilitic), Mucopolysaccharoidosis & VSD (psoro-sycotic), Rheumatic Heart Disease (psoro-sycotic) and Psoric Angina pectoris.

The Pune core group of NAHI comprising of Drs. Abhijeet Joshi, Yashodhar Bhalerao, Amit Tribhovan, Vyankatesh Kulkarni, Rupali Deshmukh, Shailesh & Sarika Doshi and others, accepted the challenge of hosting for the first time a workshop of national level in the city of Pune. They left no stone unturned in making the arrangements for its success so that the homoeopathic fraternity would enjoy the academic feast and their stay at Pune would be left with pleasant memories that will be cherished for a long time.
Report
By
Dr. Aadil Chimthanawala
MD (Hom), DNB (Med), BHMS, MBBS, FNAHI, PGNAHI
"Aadil Homoeo Heart Care Centre",
Hanuman Lane, Sitabuldi, NAGPUR-12.
Ph: (0712) 2532008, 2766286, 9822240648; adilch@rediffmail.com
Prerna-09 organised by IIHP Punjab at, Khanna(Pb) from 16-22 March Report by Dr S.S.Vithal
Homoeopathic seminar (PRERNA-09) at Khanna successfully concluded.

Week long homoeopathic workshop (Prerna-09) started on 16th March at Dr Vithal's Homoeopathic Medicare Centre,Samadhi Road Khanna (Punjab)being organised by Indian Institute of Homoeopathic Physicians Regd Punjab state branch, concluded successfully .

In this workshop practical training is being impatrted to Interns & homoeopathic drs who came all the way from diffrent parts of Haryana, Punjab, Chandigarh, UP, Utranchal etc.
The following reknowned physicians gave training to them in new and innovative ways of treatment.
Dr.R.Kochhar Principal Lord Mahavira Homoeopathic Medical college Ludhiana & Dr.S.S.Vithal National Vice President IIHP, Dr. Kapil Sharma(Bijnor), Dr.Himanshu Rath from Rudrapur UK, Dr.R.Josan (Amritsar), Dr.Muktinder Singh & Dr Rajesh Sofat (Ldh), Dr Prof Manjit Kaur (Chd), Dr Neelam (Patiala), Dr.Satish Kapoor , Dr.Tanvir (Malerkotla) . Chronic epileptic , Lecoderma,Psoriasis, Arthritis, Diabetes, Hypertension, Cancer, HCV, ADHD children & managment of acute emergencies etc successfully treated with classical homoeopathic treatment were shown by the learned teachers on LCD projector. In addition to this Psychetrician, Cardiologist, neurologist, Radiologist, Pathologist also tought the various ways of diagnostic tools.
No delegation fee charged from Interns & homoeopathic students.Only charges for arrangment of their food/tea were taken

Dr.Suruchi Sharda
Dr.Poonam
M.Gobindgarh(Pb)
Free Homoeopathic Medical Camp organized by HARC (Homoeopathic Academy of Research & Charities) on 10th April 2009 at Parbhani
Homoeopathic Academy of Research & Charities had organized Free Medical Camp on 10th April 2009 at Shaktibrahma Homoeo Care Shivaji Nagar, Parbhani.
In this camp Dr Pawan S Chandak, Dr Mrs Asha P Chandak, Dr Vasant Garad & Dr Anjali Kale had given Homoeopathic treatment to 81 patients of various diseases like Psoriasis, Rheumatoid Arthritis, HIV AIDS, Venereal disease, skin disease, Eczema, Allergic Dermatitis, Vitiligo, Acid Peptic Disease, Asthma, Migraine, Gall stone, Renal stone, Sunstroke, Tobacco & Alcohol addiction, Schizophrenia, Menstrual problems etc.
This camp was inaugurated by Senior citizen Mr Panditrao & Adv Modani as chief guest & Mr S R Chandak, Mr Ambadas Akulwad are present. Dr Asha Chandak has given speech on World Homoeopathic Day & Dr Pawan S Chandak highlighted situation of Homoeopathy & its progress since discovery till now.
Mr Ambadas Akulwad has given vote of thanks. For the success of this camp Dr Pawan Chandak, Mr Ambadas Akulwad, Raju Mohite has taken great efforts.