Modern Homoeopathy Newsletter
October 2007
HOMOEOPATH IN Focus : Dr. Praful Vijaykar
(Einstein of Homoeopathy)
Dr. Prafull Vijayakar
L.C.E.H. (Mumbai)
Hon. Prof. Of Homeopathy, Chandaben Mohanbhai Patel Homeopathic Medical College & Hospital, Irla Mumbai.

Hon. Prof. Of Homeopathy, Mumbadevi Medical College & Hospital,
Irla Mumbai.

Hon. Physician Of Homeopathy, Mumbadevi Medical College & Hospital, Irla Mumbai.

President of Indian Institute of Homeopathic Physicians

Founder of Dr. Prafull Vijayakar's "School of Predictive homeopathy"
www.predictivehomeopathy.com

Chairman of Dr. Prafull Vijayakar's Homeopathic Development & Research Foundation
The Secret of Success", says Dr. Vijayakar is that I have tried to bridge human related sciences, with their recent advances & the homeopathic science.

Dr. Vijayakar happens to be the first homeopathic physician in the world to have gone in depth of embryology & tapped the significance of Hering's Law. This interpretation is put in the form of his Chart of Suppression. He is the first Homeopath to show his failures in seminars & point out how homeopathy can also cause very bad suppressions when practiced in the wrong way. Homeopathy is based on principles, which are rock solid, but the person does not understand it. In addition to being the first homeopath to show his failures in his seminar series, he is also one of the few Homeopaths to invite questions. The fastest constitutional prescriber, a quick good look at the patient, his body structure, body language & his diagnosis of the patient's remedy is as soon as the patient enters & starts talking.
Firm & Sound knowledge of homeopathy & human related sciences, an enquiring & a questioning mind, keen observation, ability to synthesize the information gathered faster than any computer, a brave heart, die hard confidence in himself & in homeopathic system & above all the passion to see beyond the ordinary & then to perceive & find an explanation, an answer... This is what has led Dr. Vijayakar to an extraordinary success.

Homeopaths around the world & Homeopathy itself have a lot to gain from this charismatic man! It is not without any reason that he has been nicknamed as the "Lion of Homeopathy" or "Einstein of Homeopathy".
He always says, "Lets grow together & let us march towards Unity in Homeopathy"
Seminars:
Dr. Vijayakar's for the first time visited Punjab & Khanna for one day seminar & two days workshop on 21st, 22nd & 23d November 1999 at Jalandhar wherein he introduced about his method of homeopathic practice. He is also the largest crowd puller to seminars in India today. He stands a record of 1150 people attending his 3 day seminar in Punjab.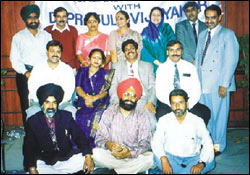 1999 : "Seminar at Punjab"
Dr. Vijayakar has also organized & conducted a workshop at Mahabaleshwar in September, 2001 which has attended by 175 delegates from 17 states of India & a few foreign delegates practicing homeopathy. He proved that the method of his Homeopathic practice to prescribe Genetically Constitutional Similimum is the most scientific one. Recently another similar seminar & workshop was held at Mahabaleshwar in September - October 2002, where 190 delegates from all over India attended . It was a grand success.
He has not presented the profession with any opinion which may change with time. His theory has concrete base on science that never changes. It is essential for a homeopath to know how a man is manufactured and how he gets sickness & what can make him healthy. From core of heart of all delegates it came spontaneously "Hahnemann tumko nahin kahte, Shan-e-Hahnemann tum ho"
About Predictive Homoeopathy:
Dr. Prafull Vijayakar a man of immense knowledge and confidence, a visionary and rightly described by his students "Einstein of Homeopathy" has changed the future of many homeopaths. In last decade when many homeopaths were disillusioned with the existing scenario of Homeopathy, treating patients by taking only the mental picture into consideration, and ending up suppressing the patients. Homeopaths were not at all confident of treating acute cases and used to refer cases of asthma, fevers to fellow homeopaths, Dr. Vijayakar stood up to challenge allopaths and showed Results in all types of cases.
He showed typhoids being cured in 48hrs, tuberculosis within 15 days, cancers and tumors disappearing.

Sounds unbelievable, but yes!!

He has authentic records (video cases) of all cases.

Proudly claiming the biggest library of cured cases on video!!

His theory of acute, and chart of acute, has helped thousands of homeopaths treat typhoids, pneumonias confidently. His both books 'Theory of suppression' and 'Theroy of acutes' has rightfully earned him the title 'Einstein of homeopathy'

To spread his work further few of his students came forward and formed a group 'Predictive Homeopathy' under the able guidance of Dr. Vijayakar. Following are the members of Predictive Homeopathy group.
Dr. Prafull Vijayakar

Dr. Narendra Mehta

Dr. Vijay Shah

Dr. Sucheta Desai

Dr. Anita Salunkhe

Dr. Prafull Borkar

Dr. Bandish Ambani

Dr. Pravin Jain

Dr. Mahesh Bhadra .
Publications:
Dr. Vijayakas's Contribution besides the charitable projects, seminars & the foundation of School of Predictive Homeopathy are his famous books.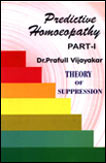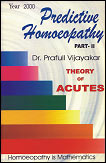 Predictive Homeopathic Series Predictive Homeopathic Series part 2 :
"The Theory of Acutes" "The Theory of Acutes".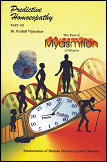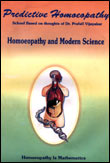 Predictive Homeopathic Series part Predictive Homeopathic Series part 4:
"The End of Myasmtion of Miasms". "Homeopathy and Modern Science"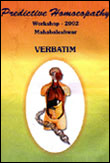 Predictive Homeopathic Series part 5: "Verbatim".
Clinic Address:
Prafull Homoeo Clinic
Aradhana Appartments,
Besant Road,
off Bajaj Road,
Vile Parle (West),
Mumbai - 400056
Maharastra
India Tel:- +91 22 26180989/26147934 email:- info@prafullvijayakar.com
Reference from:
http://www.prafullvijayakar.com:8080/aboutdr.jsp